​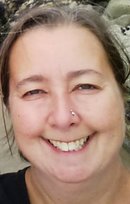 Counselling online via secure videolink or in person in Leeds LS6
​

Therapy
I trained in Psychotherapy and Counselling at the University of Leeds. I am experienced in delivering short-term and long-term counselling and therapy, in person and online, to adults and children from primary school age to older adults. Contexts include a women's therapy service, a university and college counselling service, in schools, children's centres, in the community and in private practice.
Supervision
I trained in supervision of individuals and groups at the University of Strathclyde. I am experienced in supervising other counsellors' work, in person and online, with children, young people and adults. I welcome new supervisees and invitation to supervise groups, in person and online.
Additional training
I have done the ESTD/First Person Plural Foundation and Post-Foundation training in dissociation and trauma, and am qualified to screen for dissociative disorders using A-DES and DES, and to diagnose dissociative disorders using SCID-D.
I have a range of training in creative ways of working therapeutically with children and adults.
I am trained in safeguarding children, young people and vulnerable adults.
Professional Interests
I am a member of the ISST-D, the International Society for the Study of Trauma and Dissociation.
I support PODS, Positive Outcomes for Dissociative Survivors.
I am a Registered Member of the BACP. My registration number is 099935.
I hold a current enhanced DBS certificate. Please contact me if you would like to confirm this using the DBS online checker.
www.counselling-directory.org.uk/counsellors/judith-marlow
judith@leedscounselling.com
I work in the following areas:

Abortion

Abuse

Addiction

ADHD

Anger

Antisocial personality disorder

Anxiety

Asperger's

Attachment

Avoidant personality

Bereavement

Bipolar

Birth trauma

Body dysmorphic disorder

Borderline personality disorder

Bullying

Carer support

Child related issues

Chronic fatigue/ME

Complex trauma

Depersonalisation

Depression

Derealisation

Dissociative Identity Disorder and other dissociative disorders

Dissociation

Dissociative amnesia

Domestic violence

Eating disorders

Emotional abuse

Family issues

Feeling sad

Generalised anxiety disorder

Hearing voices

Identity confusion​

Learning difficulties

Low self-confidence

Low self-esteem

Multiple personality disorder

Narcissistic personality disorder

Panic attacks/panic disorders

Personality disorders

Physical abuse

PTSD (post-traumatic stress disorder)

Postnatal depression

Pregnancy and birth

Relationship issues


Religious belief, doubt and difficulties

Self-harm

Sexual abuse

Sexuality

Spirituality

Stress

Suicidal thoughts and feelings

Trauma

Work-related stress

​